MGAI Beta: AI For Online Dating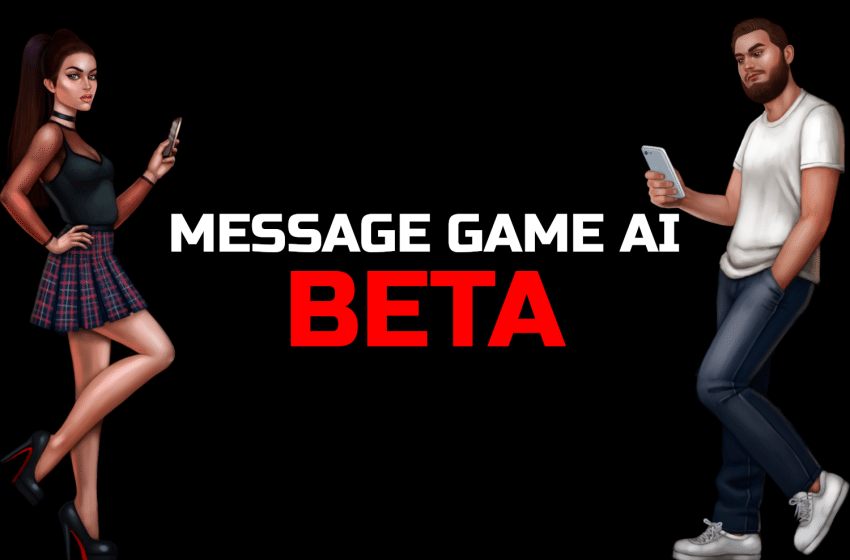 Message Game AI (MGAI Beta) is an AI bot hosted via Telegram to help you message your Tinder matches and any other messaging interactions you have in the context of online dating.
Following the huge success of the bestselling book The Message Game in the field of online dating, readers asked if there could be an AI version that helps men message women in order to get dates. However, this idea has been recently popularized outside of the Game Global community too. So we looked into it.
AI Used For Online Dating
CupidBot Is A Lie
There has been talk of AI solutions such as CupidBot, an AI service that aims to help men use AI messaging on Tinder. The founders of CupidBot have claimed to be former Tinder employees. However, according to India Today, Tinder has come forward to reveal that CupidBot's claims are false. Tinder issued the following statement:
"At Tinder, members value authenticity, and they want to make real connections with real people. CupidBot's service is not operational on Tinder, nor has it been used by Tinder members. Additionally, the founders of CupidBot have never been employees of Tinder or its parent company Match Group. With all these points, the claim made by CupidBot's founders about Tinder's algorithm is false."
ChatGPT Can't Do Online Dating
ChatGPT is a free tool created by OpenAI, a company that specializes in artificial intelligence, based in San Francisco.
We conducted a survey asking men who have used ChatGPT for online dating how helpful ChatGPT was with messaging women or getting advice about messaging women. Only 7.1% of the respondents found ChatGPT 'useful' in an online dating context.
The majority of respondents who used ChatGPT found ChatGPT to be 'useless' for online dating and messaging women, so we asked them why.
Respondents described ChatGPT's advice as generic, vague, too polite, boring, politically correct and unrealistic.
ChatGPT Vs MGAI (Beta)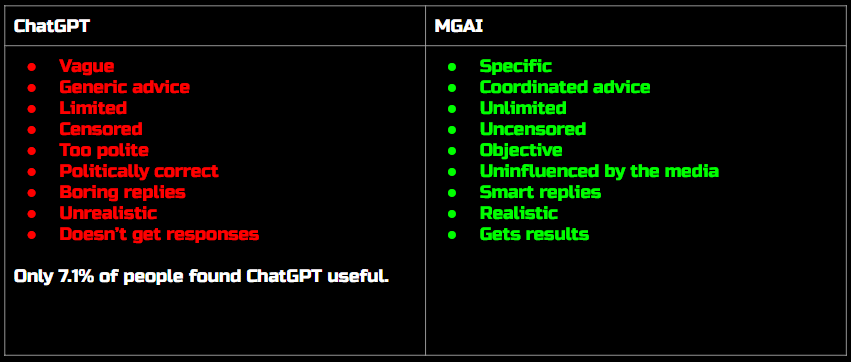 This was interesting because it helped us identify what the opposite could be. We were already well aware of what MGAI should be like. Since MGAI is based on the book The Message Game, we knew from the very beginning that MGAI should be objective in that MGAI should be interested in getting men dates, rather than wasting time doing other things. We were also very set on MGAI being uninfluenced by the media, because it can be very frustrating when you are fed advice that has no personality, and quite obviously one that tried to force someone else's beliefs onto your interactions; we want MGAI to be 'atheist' or 'apolitical'. Most of all, we want MGAI to be useful and get results.
Here are some interesting or amusing comments by some of our respondents, about ChatGPT:
"It's very vague"
"Chat GPT is an absolute simp, probably coded by an incel"
"Gave very generic, non-helpful advice"
"Too polite and nicey"
"It gives very politically correct answers feeding a social narrative instead of showing reality"
"It gives boring replies"
"The steps were too generic"
"Advice is generic, messages are lame and don't get responses"
The Problem With ChatGPT & Other AI Solutions
As is the case with the technology industry in general, including social media companies, Silicon Valley dominates everything. With these large Silicon Valley corporations comes a Silicon Valley mindset, equipped with Silicon Valley standards, Silicon Valley morals and Silicon Valley ways of doing things. Meta (Facebook and Instagram), Google and many other large corporations are Silicon Valley corporations, all sharing very similar views.
We realized that a lot of AI companies are generally put together by Silicon Valley nerds. When we really look at it, how can we count on AI experts to create something for online dating when all they specialize in is being on the computer all day? Where is the expertise in actually dating women?
That's where MGAI (Beta) comes in. Fortunately we are nerds ourselves, having previously been at Silcion Valley companies, including Google and YouTube. However, our team includes expertise in dating, in the form of a bestselling book about online dating, and as a former Founder, Advisor and Board Member of an online dating platform myself.
MGAI (Beta) is in the hands of a genuinely experienced and qualified team striking the perfect balance between technology expertise in artificial intelligence and dating expertise in digital communication. MGAI, therefore, will be in the position to give good quality advice, based on a book that has a reputation for getting results for its readers, and without the censorship.
Advantages Of MGAI (Beta)
MGAI uses data that has been tried and tested manually by thousands of men around the world, collected over a period of more than 5 years.
MGAI understands that the user is a heterosexual male, and understands that the goal is to actually get a date.
MGAI sifts out all the bullshit advice and unhelpful data that other AI bots would collect.
MGAI extracts data from a specific set of quality sources that is highly targeted towards its goal and use case, rather than being plagued by Reddit advice and generic blog content scattered across the Internet.
MGAI includes a community built exclusively for MGAI users.
MGAI includes monthly recorded and live webinars to help improve men's Tinder photos and bios. Also covering Instagram.
MGAI involves a human feedback loop, which enables users to flag bad responses to a section of the MGAI Community. This will then be collected, manually analyzed and fed back into the AI to train MGAI even further. This is done on a regular basis.
Message Game Wingman can be considered an earlier non-AI version of this service.
Join The MGAI Beta
The MGAI Beta will be released on 4 May 2023.
See updates via Telegram to join the MGAI Beta. There will be a free trial.
Look out for a special code that will give you access to MGAI at a discounted price.