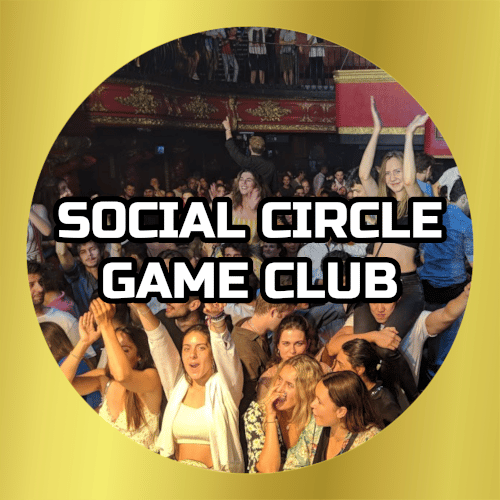 Social Circle Game Club is a continuous accountability group for social circle gamers operating through a highly organized Telegram group.
Our members are currently based in:
🇨🇦 Halifax
🇨🇦 Montréal
🇨🇦 Toronto
🇺🇸 Austin
🇺🇸 Dallas
🇺🇸 Los Angeles
🇺🇸 Miami
🇺🇸 New York
🇺🇸 Sarasota
🇺🇸 Seattle
🇺🇸 Tampa
🇺🇸 Washington DC
🇲🇽 Mexico City
🇲🇽 Playa Del Carmen
🇨🇴 Medellín
🇵🇪 Lima
🏴󠁧󠁢󠁥󠁮󠁧󠁿 London
🇳🇱 Amsterdam
🇩🇪 Berlin
🇦🇹 Vienna
🇭🇺 Budapest
🇵🇱 Gdańsk
What Social Circle Game Club Does
SCG Club is a group exclusively for social circle gamers who are serious about social circle game and reaching the next level.
Monthly accountability & progress call
Member directory with list of

Locations
Profiles
Resources
Achievements
Goals

Accountability
Networking
Sharing experiences
Learning together
Learning from other members
Potential for collaborations
Possibility of couch-surfing
Group of people with a common goal
Exclusive previews to The Social Circle Game book

(When in development)

Sharing Instagram successes and tips
SCG Club is just $10 per month, and by signing up you agree to commit to 6 months of membership.
Frequently Asked Questions
Q: How much does Social Circle Game Club cost to join?

A: SCG Club is just $10 per month, and by signing up you agree to commit to 6 months of membership. You can adjust the amount in the payment form below to any amount above $10 if you wish to support the cause.

Q: Who runs Social Circle Game Club?

Q: What can I learn in Social Circle Game Club?

A: You can learn social circle strategies from members who are actively implementing it in the group and exchange success stories and challenges faced. You can even collaborate with other members if there are others in your city, or if someone in another city is doing something similar to what you're doing, or if they have advice for something you need. For example, a party host in Toronto could get photography advice from a professional photographer in Austin, and a VIP host could make great connections with promoters, hosts, DJs and more.

Q: Would this be useful for me if I live in a small town or city?

Q: Can I watch videos about social circle game?

A: This isn't currently part of Social Circle Game Club, but we do have videos you can see for free on the Social Circle Game playlist on YouTube.

Q: How would I be able to cancel when I no longer need it?

A: You can cancel at any time after 6 months, with a 48 hour notice before your next billing period. You can message Ice White, and the subscription can then be canceled after the most recent billing period and you can continue being a member until the billing month is over. You should request to cancel more than 48 hours before your next billing period.

If you are intending on canceling your membership of Social Circle Game Club after less than 6 months, your case to request to cancel will be treated by individual circumstances. However, if you have not filled in the Social Circle Game Club document on Google Sheets or attended any Social Circle Game Club calls, it will be interpreted that you are not making any effort to actually try to implement anything, and therefore your request to cancel can be rejected for a period of time, or until you do fill in details and attend a call.

Q: When is the Social Circle Game Club Accountability Call?

A: Our monthly calls are scheduled for the last Sunday of each month, and we may be increasing the frequency over time in line with demand.

Las Vegas Time: 13:00, Chicago Time: 15:00, New York Time: 16:00, London Time: 21:00.
Pay Now