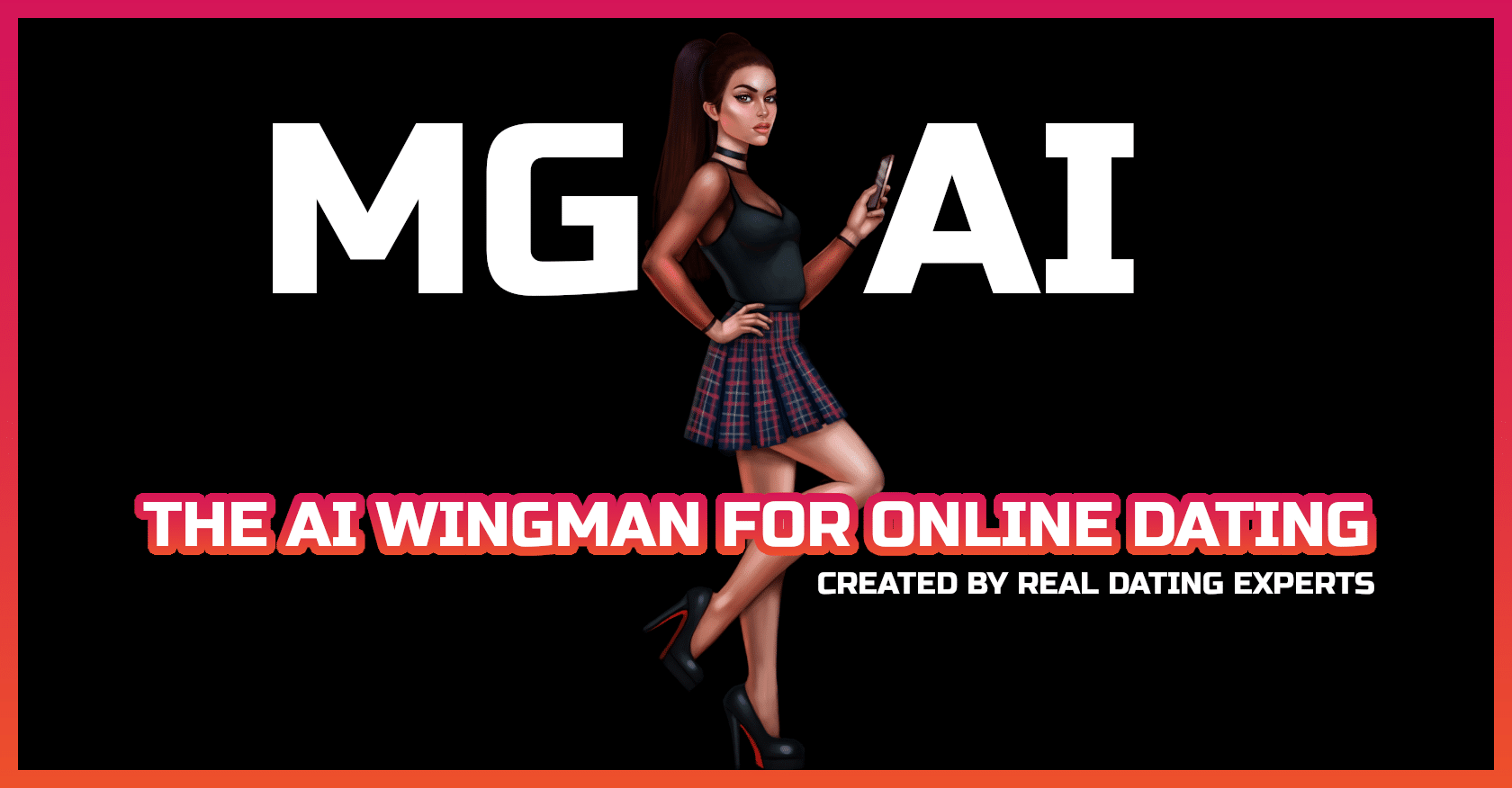 The AI Wingman For Online Dating
MGAI is an AI bot that helps you message women in order to get to the date…
WITHOUT THE BULLSHIT!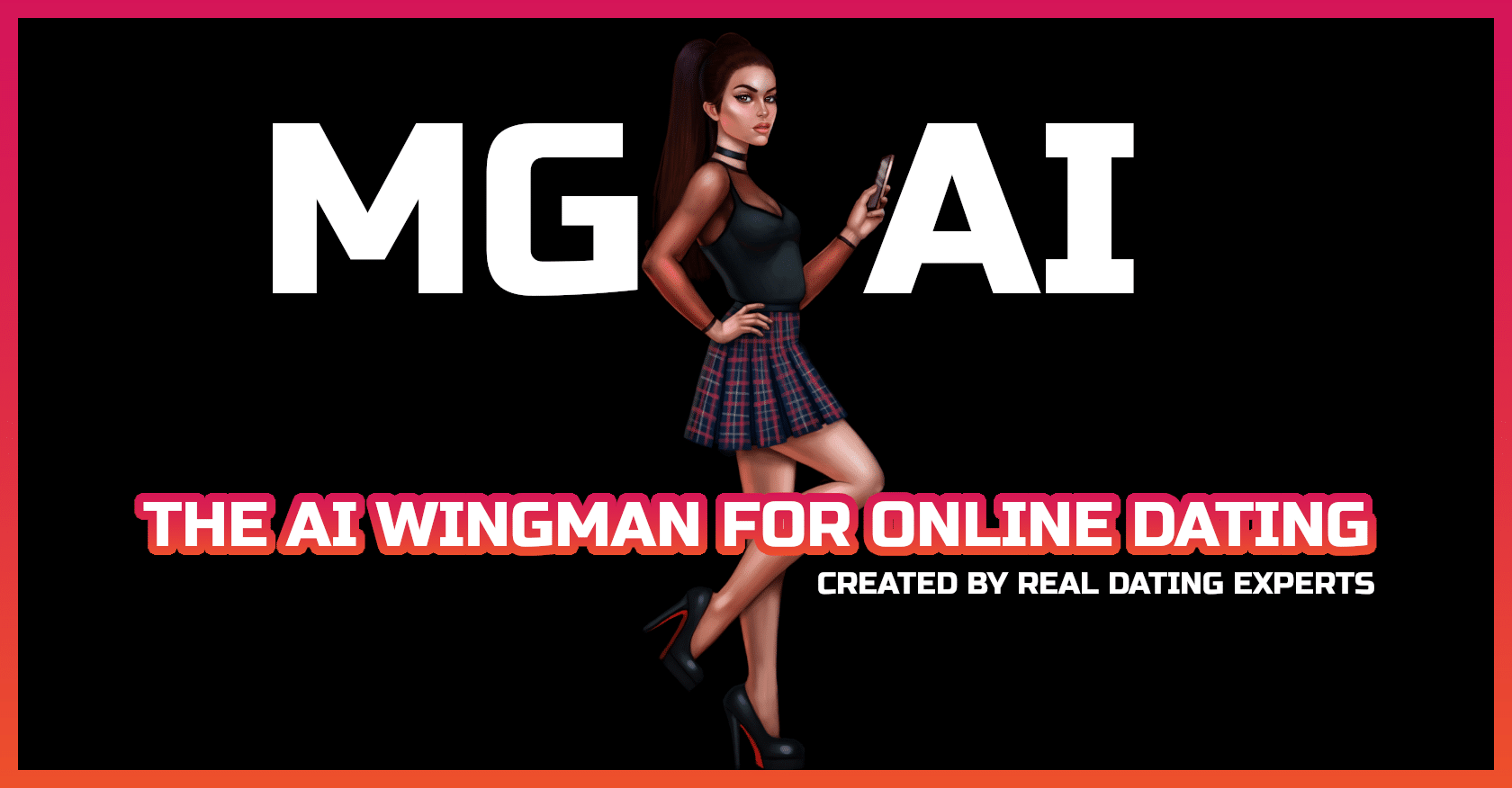 Message Game AI, otherwise known as MGAI, is an AI wingman chatbot for helping you message women to get more dates.
Unlike Chat-GPT, MGAI is designed specifically for helping men get dates, by using high quality datasets that have been collected among groups of thousands of men dedicated to online dating and digital communication. The most notable group was known as the Message Game project, which all started when a former Google employee started analyzing his own Tinder interactions from a sociological perspective, trying to find patterns that would help get more dates.
This project would then eventually spawn a bestselling book about online dating, called The Message Game; a book notoriously known for giving no-bullshit practical advice and showing hundreds of examples of messaging interactions from Tinder, Instagram, Facebook, WhatsApp and more. It received reviews from men who went from having no dates or sex in months or even years to having dates 3-5 times a week. (Even in COVID-19 lockdowns)
How MGAI Works
MGAI uses the teachings of the bestselling book The Message Game as the backbone of its advice and suggestions. It is backed by tens of thousands of specific references of messaging interactions from men messaging women through Tinder, Instagram, WhatsApp and many other messaging apps. This means that it provides information based on real interactions between men and women within the frameworks of what really works, whereas Chat-GPT and other AI solutions tend to use any kind of garbage across the Internet such as Reddit content and blog posts from unqualified sources.
MGAI also acquires hundreds more references every single day, just from MGAI users alone. This helps MGAI become more accurate every 4 minutes and 30 seconds. The MGAI team is also able to manually review anomalies and train MGAI accordingly through a feedback loop.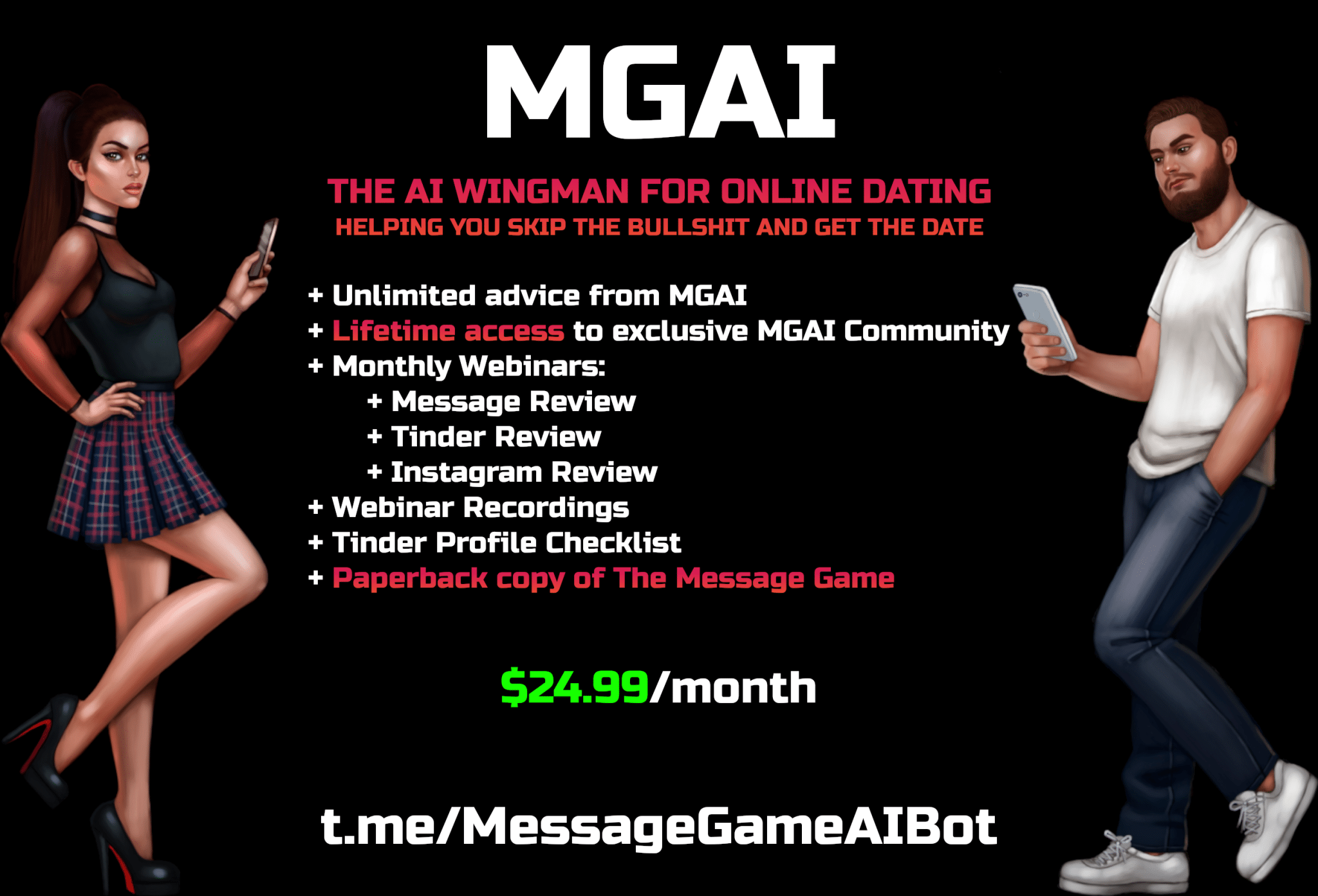 MGAI Milestones
14,517 suggested responses given
MGAI learns every 4 minutes and 36 seconds
First ever AI wingman that comes with a book
(Last updated 21 July 2023)
Bonus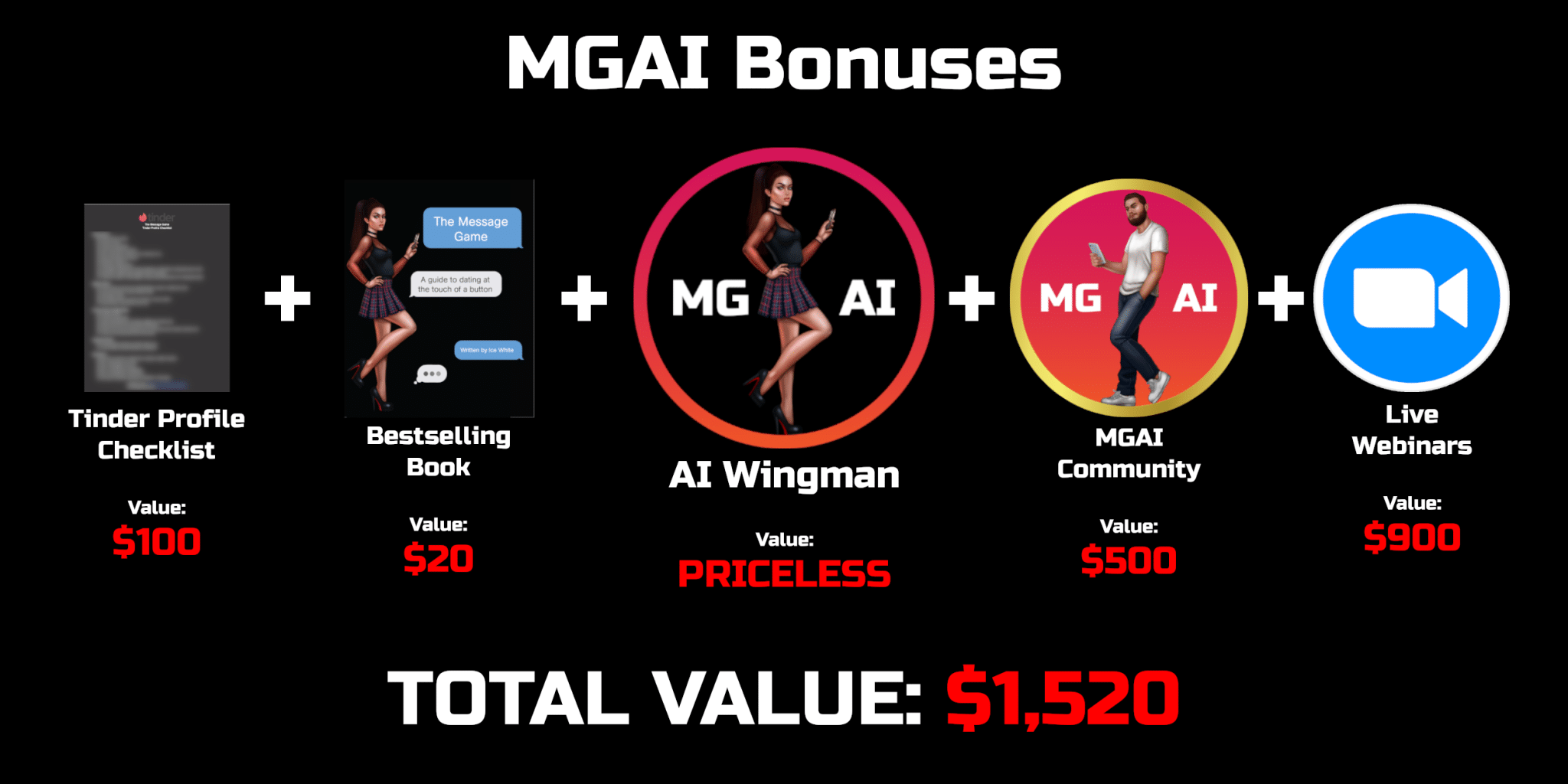 MGAI users will receive the following bonuses:
Lifetime access to the exclusive MGAI Community
Paperback copy of the bestselling book The Message Game
MGAI Webinar every month, covering:

Message Review; message analysis & feedback
Tinder Review; Tinder profile analysis & feedback
Instagram Review; Instagram profile analysis & feedback

MGAI Webinar Recordings
Tinder Profile Checklist
Frequently Asked Questions
What is MGAI?

Message Game AI (MGAI) is an AI chatbot for messaging women in an online dating context. It comes with a community, monthly webinars and various other resources to help men accelerate their online dating journey and to get more dates, without the bullshit. It is accessible through the Telegram app or website at t.me/MessageGameAIBot.

What is unique about MGAI?

MGAI is run by experts of both the AI arena and the online dating arena. It is built by real experts in dating that have released a bestselling book in online dating, as well as having served time as Founder, Advisor and Board Member to dating app companies.

MGAI is a real AI project backed by the AI company and platform Novo AI. The MGAI team has years of experience with helping men get dates through dating apps and messaging, which is one of the unique things about MGAI due to other AI solutions not having this level of experience to verify the advice that comes through AI.

MGAI uses extremely high quality datasets. The data used to influence and train MGAI is very 'pure' in the sense that it has been collected for a very specific purpose for years via the Message Game project*. This means that it has tens of thousands of references specifically from hetersoexual men, and these references have been tried and tested, with human context and analysis. Other AI solutions do not have these extremely high quality datasets.

*The Message Game project (2018-Present) is a social-psychology experiment that has involved thousands of heterosexual men testing digital communication in a dating context.

Who are the creators of MGAI?

MGAI is built by former dating app founder and online dating bestselling author Ice White in partnership with Novo AI. The team consists of former Google employees, backed by 12 years of combined experience in Alphabet Inc companies in Senior Software Engineer, Software Engineer and Marketing roles. The team is also backed by years of startup experience.

How does MGAI compare with Chat-GPT?

According to Game Global, only 7% of men who tried using Chat-GPT for online dating advice actually found Chat-GPT useful.

An experiment between MGAI and Chat-GPT can be found here, in which the opinion declared MGAI the clear winner in terms of the responses given by AI.

Does MGAI get updates?

MGAI is currently in Beta and will always be learning on a regular basis. It will also be trained manually through manual communication analysis on a monthly basis, based on user feedback and anomalies. See the MGAIOfficial channel for updates.

Can MGAI analyze my Tinder photos and bio?

MGAI is not analyzing Tinder profiles at this time, but it is a consideration for the future. However, the MGAI Community comes with monthly webinars to give users access to expert advice regarding Tinder profiles and other dating apps.

What apps does it cover?

MGAI is intended to work across many contexts, including all online dating apps as well as social media, as well as SMS and Internet-based messaging software like WhatsApp and Telegram.

Will I get into trouble using MGAI on a dating app?

Some dating apps have declared that they wouldn't want their apps infested with AI chatbots using APIs to message people on behalf of real humans. However, we don't use APIs. By copying and pasting suggested responses, your activity cannot be traced back to MGAI because MGAI was designed to imitate human behavior in an effective way. You will be safe, because you don't need to give away control of your dating app accounts or use API.

Can MGAI adapt to my personality?

MGAI is intended to be adapted to the personality of Ice White, author of The Message Game. However, MGAI will provide suggested responses that you can then take as inspiration. You can then adapt this to your own personality should this be your preference.

Does this work in my country?

MGAI's principles have been used for years by thousands of men all over the world, in more than 50 countries, including but not limited to USA, Mexico, Peru, Argentina, England, Spain, Italy, Germany, Poland, Romania, Russia, Turkey, India, Bangladesh, Mexico, Malaysia, Singapore, China and many more. These principles were most notably released in the book The Message Game: A Guide To Dating At The Touch Of A Button. You can see highly positive reviews from across many countries.

Which languages are supported?

MGAI is created according to the English language. AI chatbots are often advanced enough to be able to translate accurately, although we have not yet identified which languages work best besides English. However, there are users currently interacting in Dutch, Estonian, Finnish, German, Hungarian, Italian, Korean, Portuguese, Slovenian, Spanish, Swedish and Turkish.

Can I cancel membership anytime?

Yes. You will be able to do this on MGAI's menu via Telegram or Messenger.

How can I cancel membership?

You will be able to do this on MGAI's menu via Telegram or Messenger.

On Telegram:

Go to MessageGameAIbot > Menu > /settings > Manage Subscription

On Messenger:

Go to MessageGameAIBot > View menu options > Settings > Manage Subscription

I'm a software engineer. Can I help in any way?

Send an email to [email protected] with your résumé, under the subject AI Software Engineer.
How To Use MGAI
MGAI comes with a 7 day free trial.


Tags:

Cupidbot AI CupidbotAI how to use chat GPT for Tinder AI TinderAI Cupidbot AI review Chat-GPT Tinder CupidBot Winggg TinderGPT Cirano Intimate AI YourMove AI Teaser AI TeaserAI Metropolis Dara Keeper AI Dating App AI messaging PersonalAI Auto Seduction AI LoveLines Chat GPT Pickup Lines HotConvo Copilot4Dating Dating Copilot AI Dating Tools AI Dating Tool Rizz Rizz AI AI Online Dating Podcast Ice White Dating Coach AI News AI For Online Dating Messaging