Message Game Wingman (MGW) is a mini-program that allows you to send screenshots on a daily basis of your conversations with women.
This is perfect for you if you struggle to get dates out of your Tinder matches or any phone numbers you have obtained from anywhere else.
How Message Game Wingman Works
MGW operates every single day, including through various holidays, to provide you with EXACTLY what to send to that girl you want to go out with.
Message Game Wingman allows you to sit back and relax and be helped to go on more dates with more women, or even have the opportunity to learn how to do it for yourself in time so that you have the tools to manage your own rotation or the incoming potential dates.
Tier 1 allows you to send a maximum of 2 screenshots per day, and receive back within a matter of hours exactly what to reply.
Tier 2 also enables you to send a maximum of 2 screenshots per day and receive what you should reply with. To go further, you will also be presented how you can move it forward even further in the most efficient way in order to get a date FAST.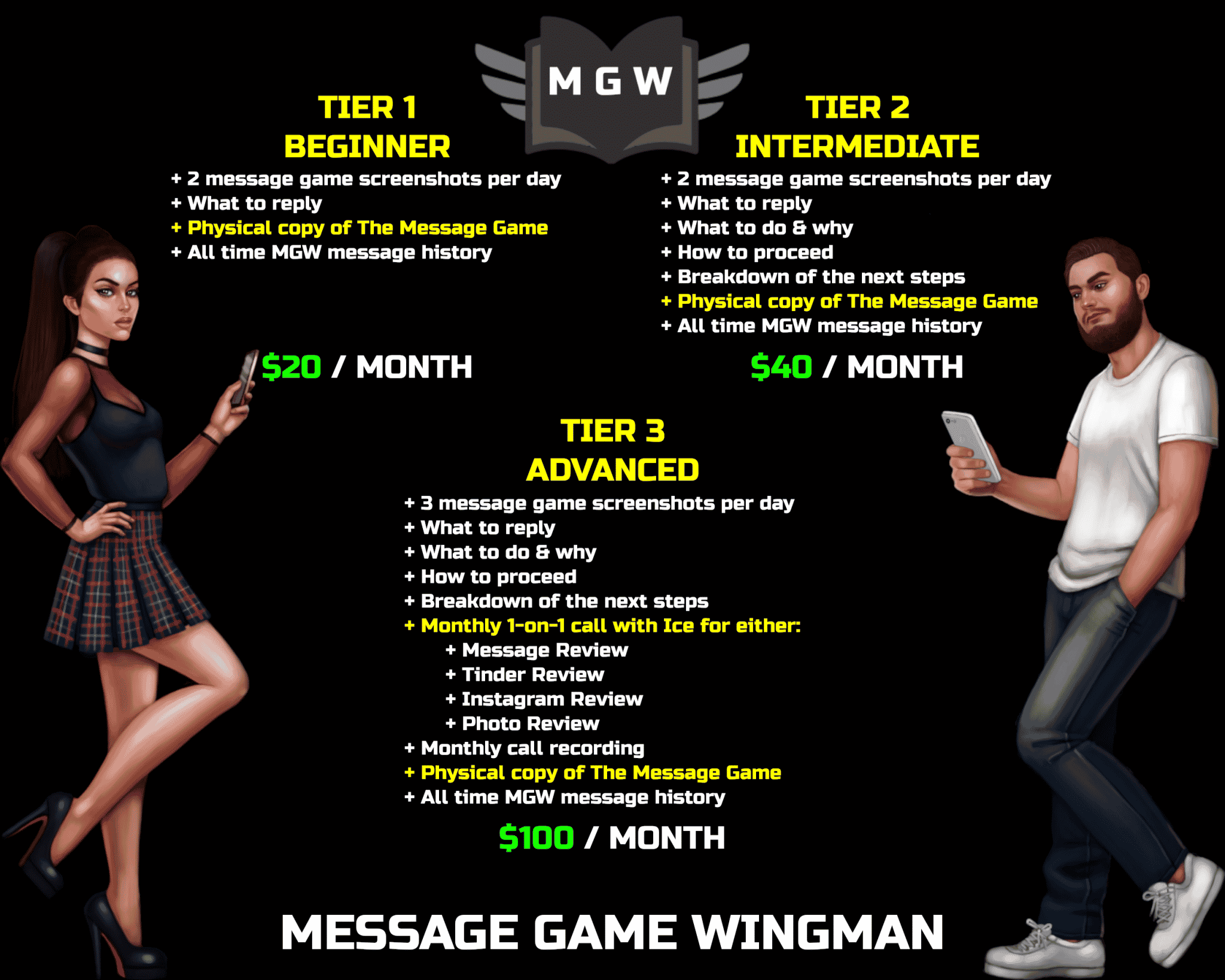 Bonus
As a bonus, Olcan Print has kindly agreed to provide a copy of the bestselling book The Message Game to all members of Message Game Wingman.
Frequently Asked Questions
Q: What's the time commitment?

A: No strings attached. You may unsubscribe or change tier freely at any time. If you cannot find a way to do it on your side, you can let Ice White know. You should request to cancel more than 48 hours before your next billing period.

Q: Is MGW really open every single day?

A: Some exceptions exist, such as travel days. These are days in which Ice has a flight scheduled or other long-distance travel arrangements. MGW will still run through some holidays such as Christmas, but not through birthdays. The MGW chat includes a full year-long schedule that gives you plenty of notice of busy days. Thus, aside from a few special celebrations and travel days, MGW is open every single day.

Q: How long does it take for MGW to give me a reply?

A: Sometimes it can take minutes. Sometimes it could be 1-2 hours. Therefore, it depends on many things in life. However, in the very worst case you may have to wait up to 8 hours if you submit late in Ice's timezone, due to sleep. You can see Ice's timezone and travel plans at any time on his Telegram bio.

Q: Where would I be sending MGW screenshots?

A: We operate within a highly organized Telegram group exclusively for MGW members. The group is called Message Game Wingman.

Q: What apps does MGW cover?

A: Anything and everything. Tinder and SMS are very popular, but WhatsApp, Facebook, Messenger, Instagram, Hinge, Bumble, OKCupid and many more are really no different. Message Game Wingman can handle it all.

Q: How do I get the book The Message Game?

A: Every member of MGW as of 20 July 2022 will be given a physical copy of the book The Message Game as part of the program. Once you join the program, Ice White will ask for your address so the book can be sent to you. If you already have one, we suggest giving the spare to a friend.

Q: How would I be able to cancel when I no longer need it?

A: You can message Ice White, and the subscription can then be canceled after the most recent billing period and you can continue being a member until the billing month is over. You should request to cancel more than 48 hours before your next billing period.
How To Join
To sign up, just enter your details below and contact Ice White via one of the following to be added to the MGW Telegram group:
Pay Now