ChatGPT For Online Dating Approved By Only 7% Of Men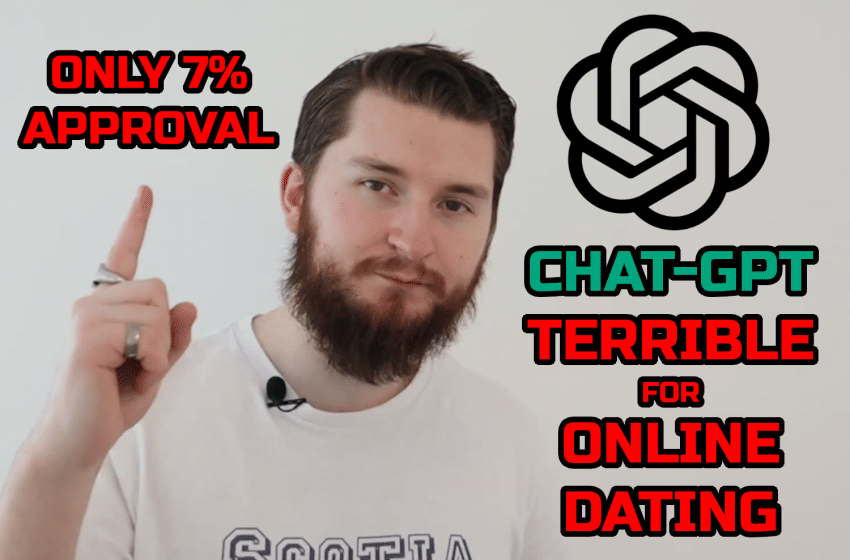 A Game Global poll found that only 7% of men who tried using ChatGPT for online dating advice said it was helpful. The vast majority of these men in fact had a negative opinion about ChatGPT's usefulness in this area.
Some of the comments left by these men were the following:
"Chat GPT is an absolute simp, probably coded by an incel."
"It's very vague."
"It gives boring replies."
While AI-powered tools like ChatGPT have attempted to assist individuals in their dating endeavors, many men have found them lacking in terms of effectiveness. However, there's a new player in town: MGAI, the AI wingman for online dating designed by dating experts based on tried-and-tested data from thousands of men. In this article, we explore why ChatGPT falls short and introduce MGAI as a promising solution to enhance the online dating experience for men.
5 Problems With Using ChatGPT For Online Dating
We identified 5 main reasons why ChatGPT sucks as an AI tool for online dating, and these are some huge flaws that explain why it won't work effectively.
Expertise
ChatGPT is not created by dating experts. It's created by computer nerds.
So why would ChatGPT even be good at helping you with your Tinder conversations when most of the advice on the Internet is garbage anyway?
Reliability
ChatGPT is designed to collect information from all over the Internet, collecting data up to 2021. This means that anything ChatGPT says is probably already outdated, especially when it comes to online dating's new features and changes.
It also means that the data is likely to include low quality content and terrible advice from blog posts and Reddit.
Objectivity
ChatGPT wouldn't necessarily understand that the purpose of matching with people on dating apps and messaging your matches is to meet. It therefore also wouldn't necessarily have steps in place for the purpose of making it easier to meet each other.
Bias
ChatGPT is created by computer nerds in California who work for big tech companies, and these big tech companies are notorious for being woke and pushing their own agendas, and also with the perspective of Californian standards.
If these big tech create something, it will be in line with the standards of Silicon Valley.
Design
ChatGPT is not designed specifically for online dating, it's designed for being a universal tool.
The Solution: MGAI
MGAI, The AI Wingman For Online Dating, has been built following the success of the extremely practical and bestselling online dating book The Message Game.
It solves the problems that ChatGPT has when it comes to the field of AI online dating.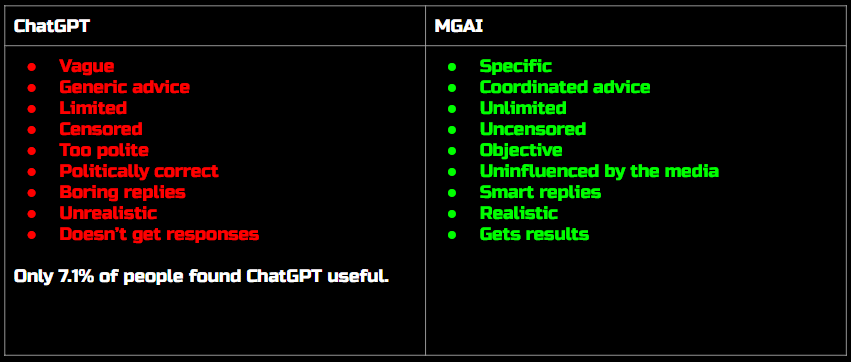 Expertise
While ChatGPT is designed by AI experts, MGAI is designed by a combination of AI experts at Novo AI and dating experts at Game Global.
Reliability
While ChatGPT is designed to gather information from many sources, MGAI is designed to use high quality datasets, containing tens of thousands of message game references with 100% purity in terms of each reference being seen from the perspective of a heterosexual man interacting with a woman. New references are gained approximately every 4 minutes, while still maintaining this extreme high quality.
The essential philosophies and behaviors of MGAI come from the content of the book The Message Game, and several entire datasets used in MGAI's data collection have already been manually analyzed by a messaging expert.
Objectivity
While ChatGPT tends to focus on coming up with lines that are only funny to low IQ people, MGAI follows the proven and highly effective methodology of The Message Game and understands that the objective is to meet. MGAI will therefore constantly take steps towards getting your matches to meet you.
Bias
While ChatGPT has a woke bias and filter, MGAI is designed to have no such filters and does not give in to the mainstream agenda.
Design
While ChatGPT isn't designed for online dating, MGAI is designed specifically for messaging women effectively.
MGAI Example
Here is a sample of what you can expect from using MGAI.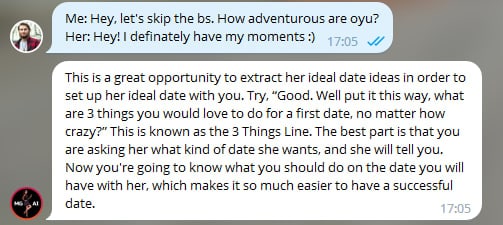 My request: 
Me: Hey, let's skip the bs. How adventurous are you? Her: Hey! I definitely have my moments 🙂
MGAI's suggested response:
This is a great opportunity to extract her ideal date ideas in order to set up her ideal date with you. Try, "Good. Well put it this way, what are 3 things you would love to do for a first date, no matter how crazy?" This is known as the 3 Things Line. The best part is that you are asking her what kind of date she wants, and she will tell you. Now you're going to know what you should do on the date you will have with her, which makes it so much easier to have a successful date.
Start MGAI
Get started with MGAI's free trial and see for yourself!
You may be able to find a discount code on the MGAI Official channel on Telegram.
Once you join MGAI permanently, you will be able to access the MGAI Bonuses:
Tinder Profile Checklist
The Message Game (Shipped to you for free!)
MGAI Community
Live Webinars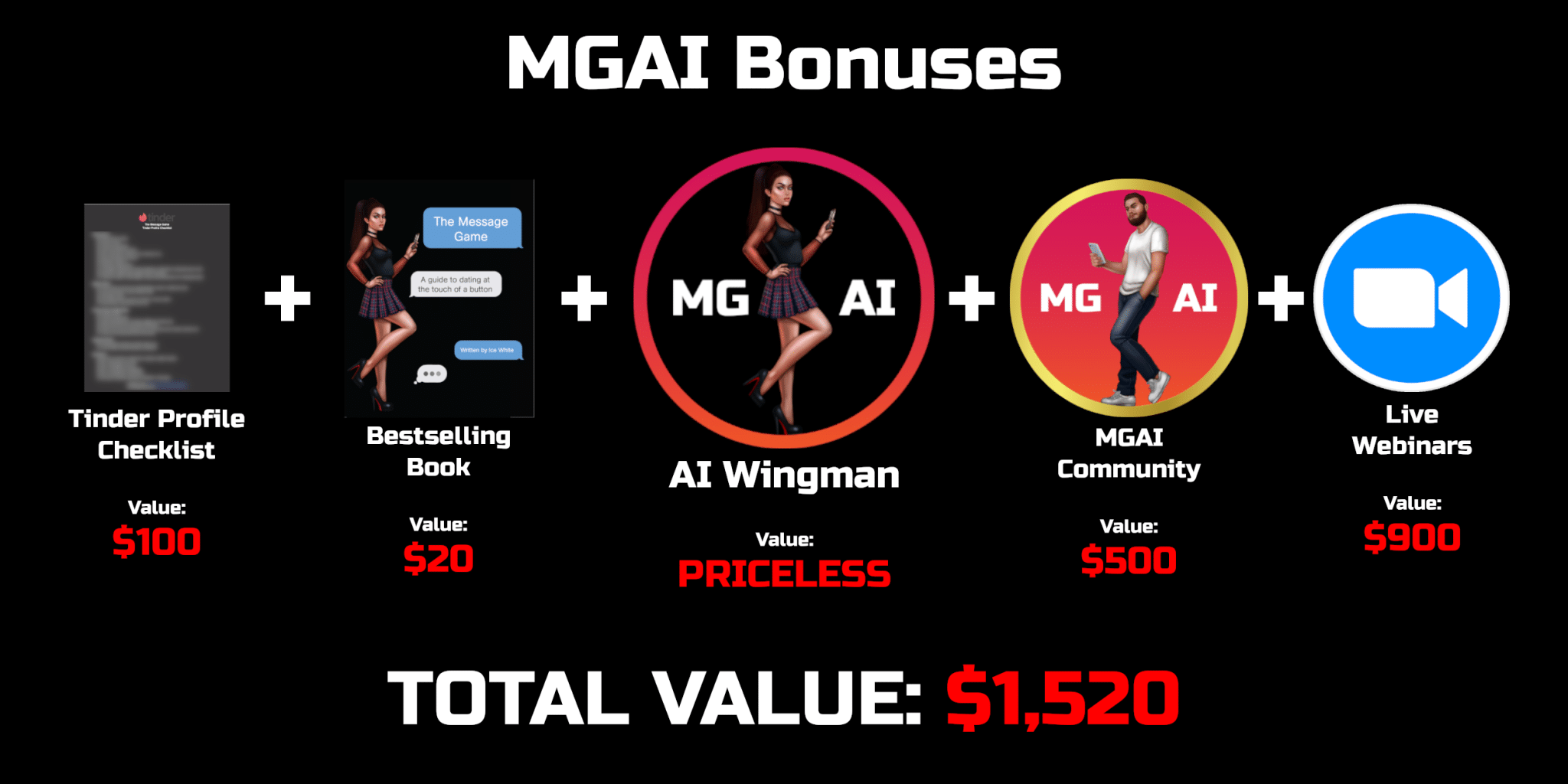 MGAI Beta Presentation
See the full recording of the MGAI Beta Launch Event below.