Inside The Tinder Algorithm: 5 Unexpected Things Tracked By Tinder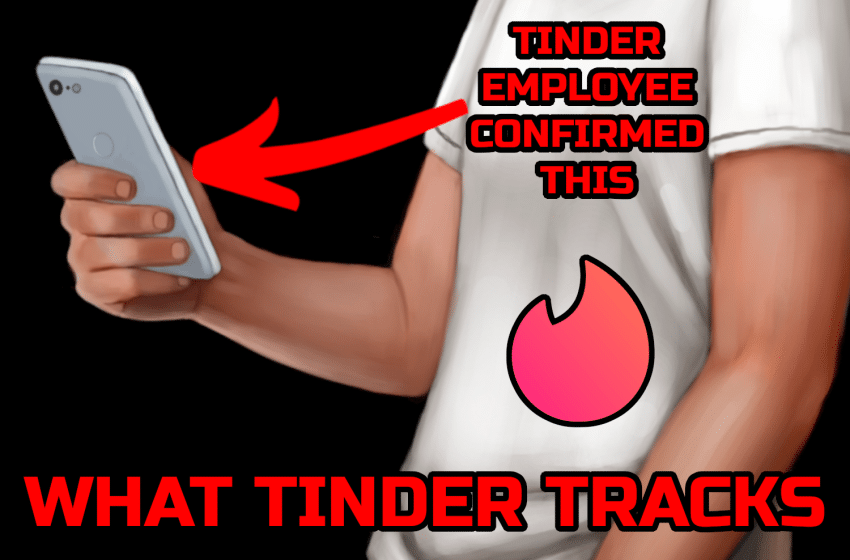 The secrets of the Tinder algorithm are best known by Tinder employees. So I asked a Tinder employee some questions about the Tinder algorithm and what it tracks.
What The Tinder Algorithm Tracks
This particular Tinder employee who shall not be named, for obvious reasons, told me the following:
"While I can't tell you anything specific about the secret sauce, I can tell you that all dating apps look at the same things and weight them differently."
We can then assume that whatever Tinder tracks is also tracked by other dating apps like Hinge, Bumble, OkCupid and the rest of the major dating apps.
The anonymous Tinder employee went on to list some examples of what Tinder tracks.
Tinder Algorithm Watches How Often You Respond
This is something that might seem quite obvious to some, because it seems pretty easy to track messages. But it's true, Tinder tracks how often you respond to your matches. This could be a bad thing for you if you struggle with messaging women.
But there's good news. If you are struggling to come up with something to write, try MGAI; the AI wingman for online dating. It is developed by former Google employees.
Tinder Algorithm Counts How Often You Open The App
This might actually be quite alarming, but it obviously easy to track. Although I never would have expected that my fate could be determined by this.
Tinder Algorithm Clocks How Long You Look At The Bio
Tinder genuinely needs to track how long you look at the bio of the profiles you swipe on, because it is a great indicator of which profiles are bots and which are not. At the same time, there are lots of men who make the terrible choice of swiping rapidly, which is something Tinder will punish you for.
Tinder Algorithm Tracks How Complete Your Profile Is
This makes a lot of sense.
I have seen a lot of profiles from men who have just 2 selfies and nothing in their bio. You deserve to sink to the very bottom for doing that. Your incompetence will get you nowhere.
Tinder Algorithm Knows How Often You Ghost A Conversation
'Ghosting' became a popular term in recent years, referring to when people just stop replying and don't come back to conversations. The Internet has given billions of people access to connect to billions of other people. The problem of hyper-connectivity is very much a problem of information; too much information is overwhelming.
I have seen women with hundreds and hundreds of Tinder messages and Instagram DM requests within a time space of 4 weeks. When you receive too many messages to handle, you are more likely to ghost people.
Summary
I was able to get the Tinder employee to tell me a few things that Tinder tracks. Just keep in mind that these trackers are not equal in terms of how they affect your profile. There is more to know, but for now we know that these are some of the things Tinder will be tracking:
How often you respond
How often you open the app
How long you look at the bio
How complete your profile is
How often you ghost a conversation
Previous Tinder Employee Interview (2020)
Note that Tinder may have changed how some things work since 2020, but many things will likely remain the same, apart from statistics. Statistics will most likely be considerably different in 2023 compared to 2020, due to growth of Tinder's userbase and other factors such as the pandemic.
I was very fortunate to have been able to ask 35 questions to a Tinder employee at the end of 2020, which gave so much more clarity to tens of thousands of men about Tinder than ever before. This clarity allowed men to make the most out of Tinder and get more matches, which helped get many more dates.
If you have questions that you would like me to ask a Tinder employee in future, send me your questions on Telegram, at @IceWhiteOfficial.
Common Mistakes On Tinder, According To A Tinder Employee
We identified, with ex-Tinder employee 'Tango', that these are the common mistakes men make on Tinder:
Having less than 4 photos on your profile (Quite common)
Having low quality profile (Extremely common)
Swiping rapidly on female profiles (Very common)
Not tapping on profiles (Very common)
Swiping during rush hour (Quite common)
I have personally seen thousands of Tinder profiles from men over the years, and the vast majority of them fucking suck. If you're reading this, I strongly advise joining the r/RateMyTinder subreddit and submitting your Tinder profile in the form of the 9-photo summary.
Or… You are welcome to continue making the same mistakes and never meet that amazing woman you could have met, that you were too stupid to prepare yourself for.
How fucking scary is that?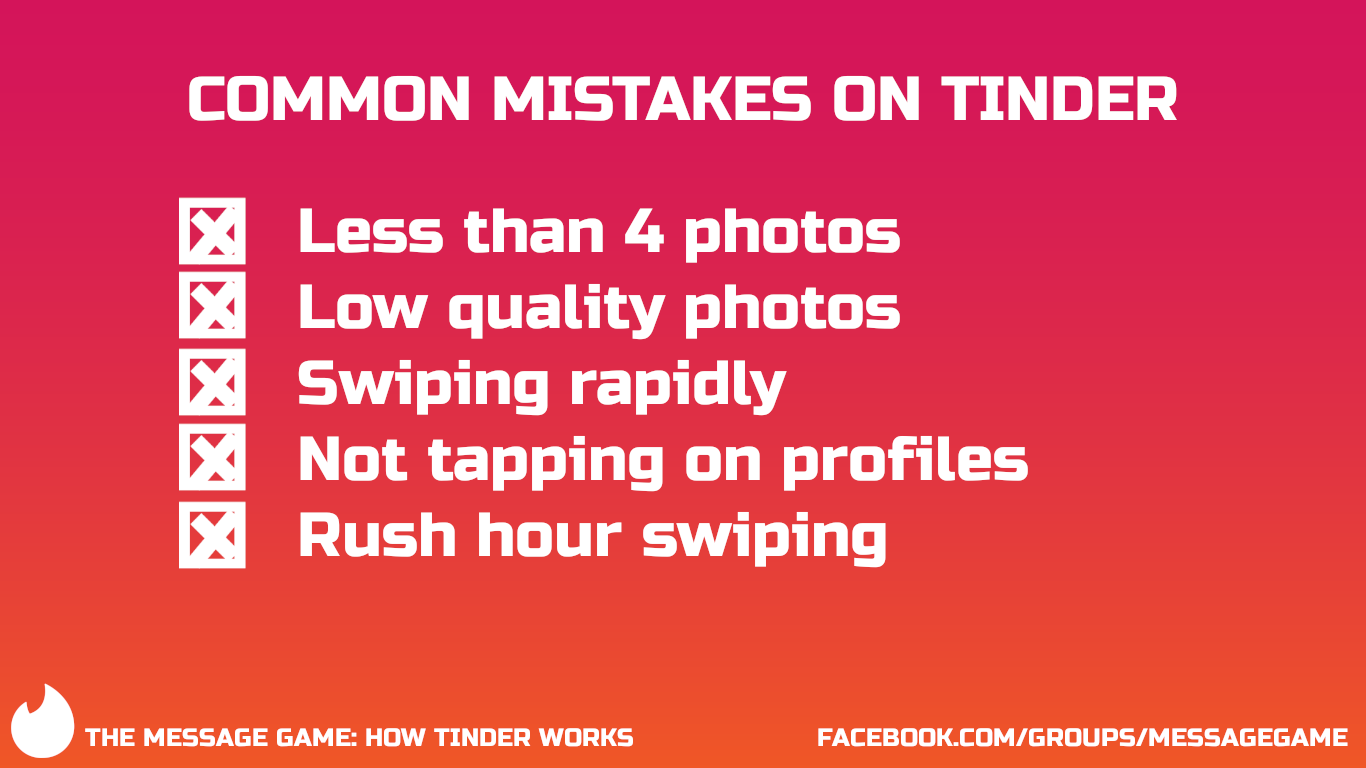 Ex-Tinder Employee Advice
The advice the ex-Tinder employee gave was the following:
Swipe selectively (Tinder tracks it!)
Tap on profiles (Tinder tracks it!)
Avoid rush hour swiping
Swipe left on right swipers (See further below for why this is important)
Have great quality photos (Stop fucking taking selfies)
Stay active; inactive accounts are effectively reset (Tinder tracks how often you open the app, remember?)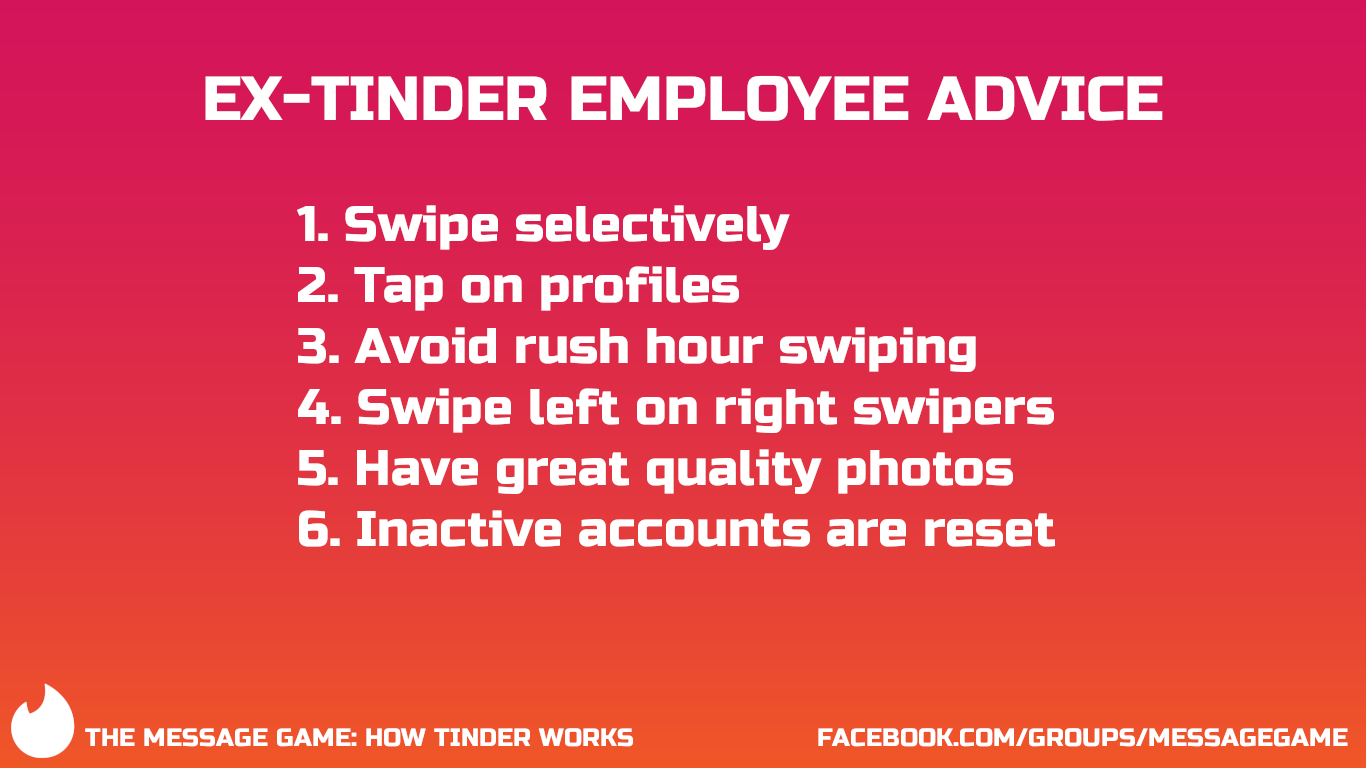 The Tinder Triangle: How Many Matches Men Receive
In an additional video where we went more in-depth on Tinder statistics, the macro-level of Tinder was insane.
Popular: Only 2% of men had more than 2,500 matches. This is the extreme of Tinder success.
Good: Only 12% of men on Tinder had more than 500 matches; 10% having more than 500 but less than 2,501 matches.
Normal: Only 30% of men on Tinder had more than 100 matches; 18% having more than 100 but less than 501 matches.
Utterly Useless: 70% of men on Tinder had between 1 match and 100 matches, of this 70% were the 43% who never had more than 25 matches.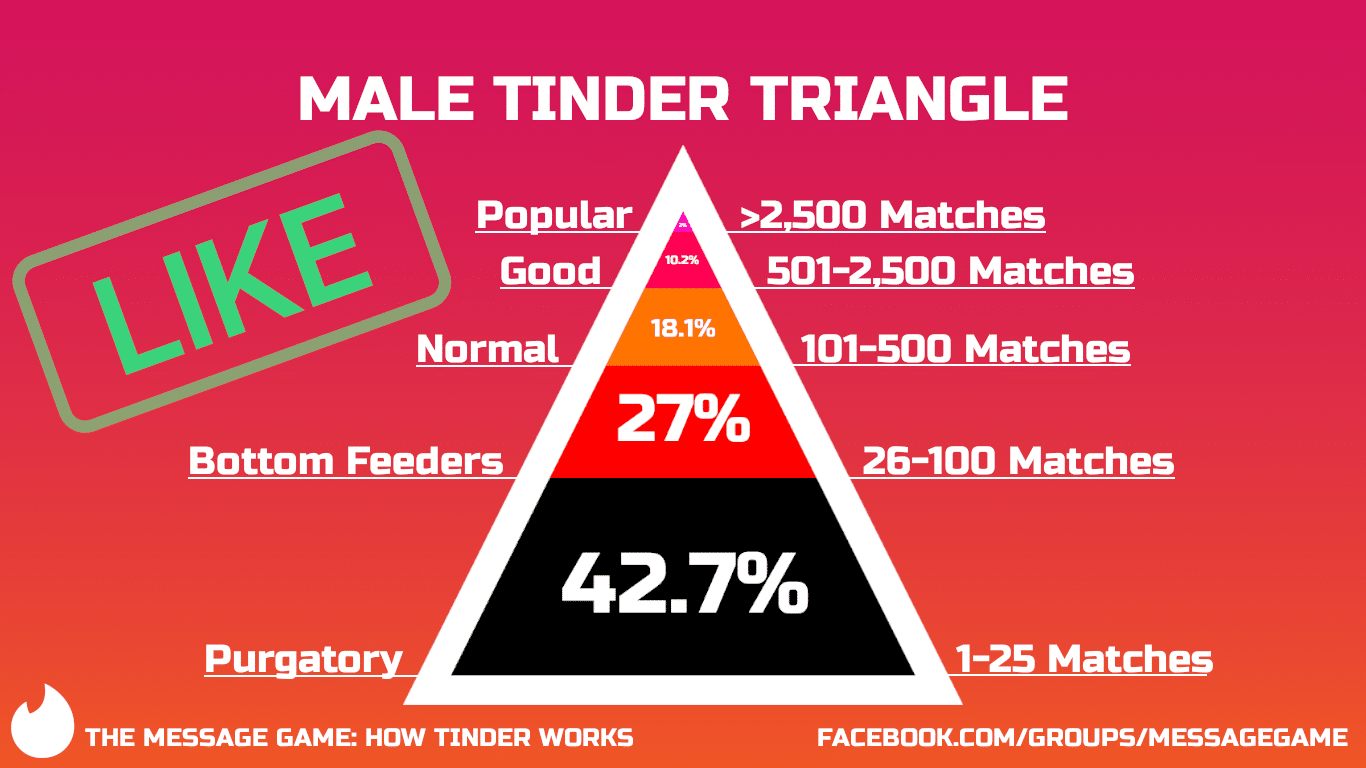 Tinder Swiping Strategy Explained
In a nutshell, swiping left on a woman that swiped right on you means that you rejected her. If you ended up swiping right on every woman that swiped right on you, the Tinder algorithm will see you as desperate and punish you by lowering your profile in the 'Tinder stack'.
This strategy is absolutely horrifying to a lot of men, but it's the reality of how Tinder works.
By sacrificing potential matches by rejecting those matches, the Tinder algorithm boosts your profile up. As a result, you will have access to 'higher quality' matches. In this sense, 'higher quality' simply refers to female profiles that are more attractive according to the demand among swipers. Generally, the more right-swiped a woman is, the more physically attractive she is.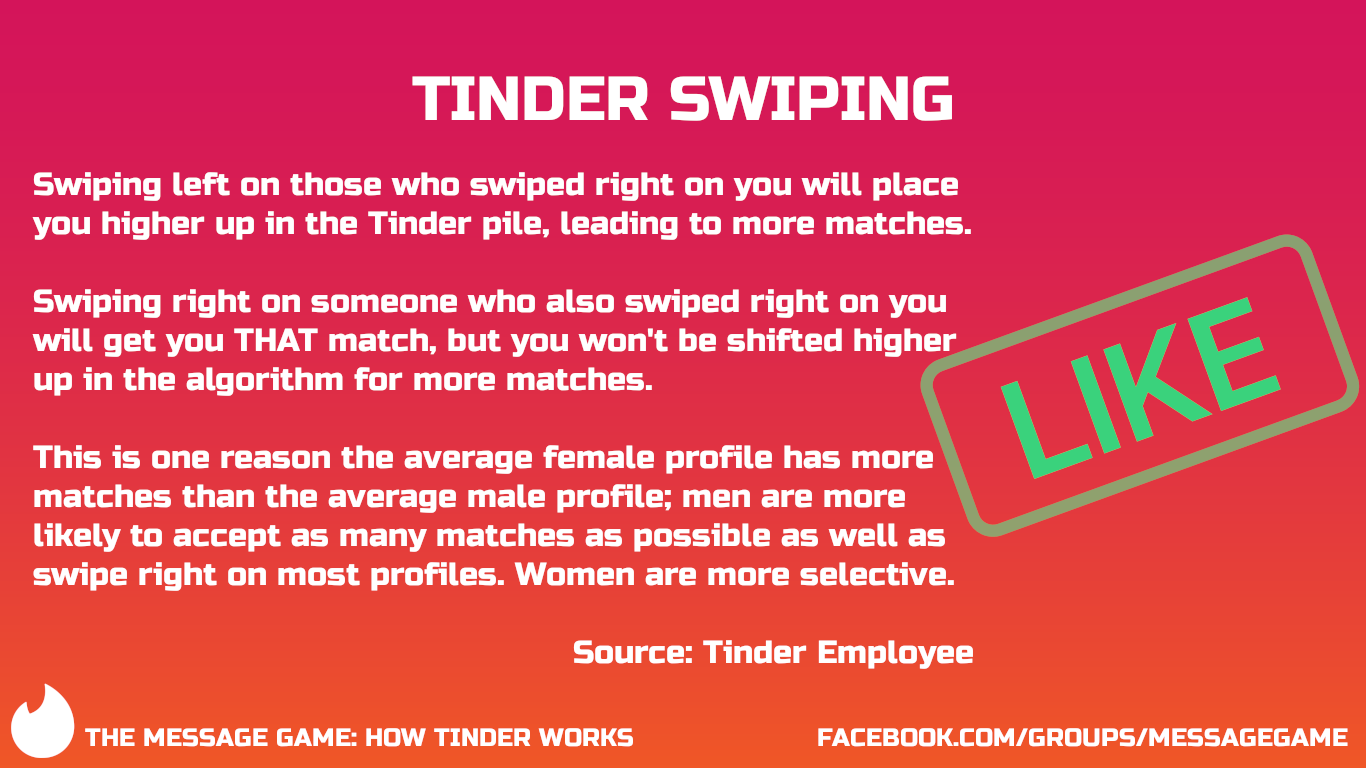 Using AI For Tinder
All the above was about matching on Tinder.
You would be a fool if you thought you could use artificial intelligence (AI) to get more matches on Tinder, having read all of this information about what Tinder tracks. AI can be tracked too.
However, this isn't always true.
AI can certainly be identified by the Tinder algorithm in terms of trying to use AI for swiping or getting matches. That requires using an API, and Tinder will know that immediately. People who work at Tinder aren't fucking dummies. They are software engineers earning a lot of money. You really think you can beat a world class team of software engineers?
Well, actually… You can use AI for messaging your matches on Tinder. Just not getting those matches by some kind of elaborate Tinder AI hack or Tinder AI scheme.
On 4 May 2023, the AI wingman for online dating called MGAI was released. It gives you exactly what to say next to your matches, as well as openers you can initiate conversations with.
The unique thing about MGAI is that it is designed by a combination of dating experts and AI experts, with former Google employees on both of these sides of the spectrum. Unlike other AI solutions, the creators of MGAI are publicly identifiable and can easily be found on LinkedIn.
It was discovered that although 74% of men thought the idea of using AI for online dating was a good idea, only 7% of men who used Chat-GPT for online dating advice actually found Chat-GPT helpful. It was clear that the problem with AI was ultimately the very fact that AI developers are computer nerds who don't have expertise in online dating; because tools like Chat-GPT aren't made specifically for online dating in the first place.
MGAI is backed by the bestselling book The Message Game, of which the content of the book is used as the core of the AI itself.
It has already given out well over 10,000 suggested responses to messages to thousands of users.
Try it for free here.
For exclusive discounts, you can check the MGAI Official channel on Telegram.