AI Online Dating Podcast: AI Experts VS Dating App CEOs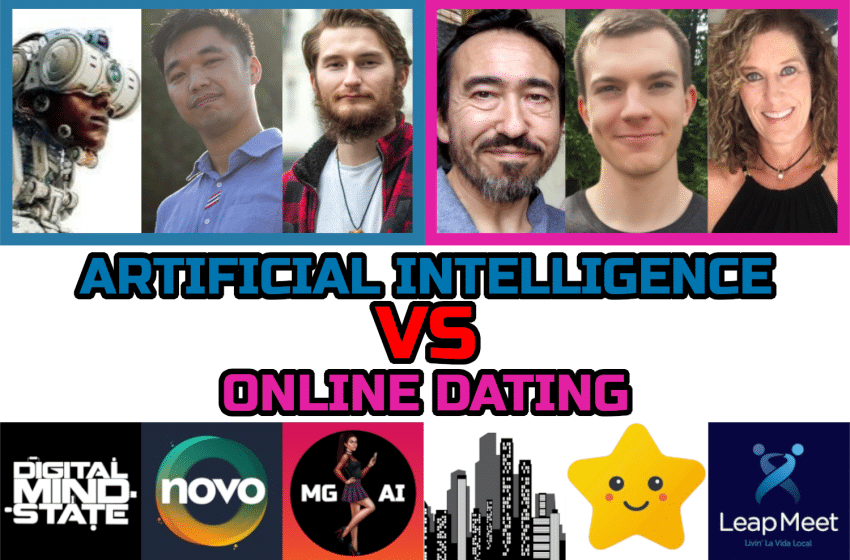 I put together a panel of AI experts and dating app CEOs to pioneer the discussion of the intersection of AI and online dating by launching the AI Online Dating Podcast.
The AI online dating territory is uncharted. There has been a lot of attention in articles online about new AI online dating use cases and products, but not without criticism or ethical concerns.
Because of this territory being extremely new, I felt that it was important to facilitate the discussion in the form of a podcast so that I could include experts from both sides; from the artificial intelligence side, and from the online dating side. Some people may represent both sides!
On our first episode of the AI Online Dating Podcast, we had a panel of 6 people to represent AI and to represent online dating.
AI Panel:
Online Dating Panel:
AI & Online Dating Panel:
Ethical Problems With AI Online Dating
There are many ethical concerns, and one of the most prominent concerns people bring up is the following question…
What if both of you are using AI chatbots to talk to each other? What would you do when you actually meet?
AI Can't Have The Date For You
One view was that meeting up and not having anything to say isn't something that's new; there was a novel and play about Cyrano De Bergerac in the 1800s, where he outsources his love letters to a woman called Roxane, and when they finally met it didn't go quite so well because he was terrible at talking.
If you use AI to message your matches, could that be called chatfishing?
While AI can help you meet, it can't have the date for you. However, AI wingmen like MGAI provide extra human guidance alongside the AI guidance, in the form of the MGAI Community and monthly MGAI webinars. It also comes with the bestselling book The Message Game, which also offers guidance on how to set up dates for success, how to pick a great date activity, and what to do on the date itself.
AI Catfishing
Catfishing is made so much easier by AI. It can generate images that look quite convincing and human, it could even show you an image of a human who never existed, or it could just take someone's photos and try to use someone's identity.
Catfishing is a serious concern even without AI. But there are ways to verify that the users are human, if the app takes precautions by included verification steps in their design.
Predicting The Future Of Dating Apps
We discussed that dating apps like Tinder are interested in getting users to stay on the app for as long as possible in order to sell subscriptions and keep users active. They are literally financially incentivized to keep you single for as long as possible, and that seems to be the complete opposite of what dating apps are supposed to be about.
The Inherent Problem With Dating Apps
The truth is that it is extremely hard to run a dating app or dating website. You are reliant on active users either in one geographical region, or in all geographical regions. Once your users enter a relationship, your users become inactive. It is also extremely hard to get users onto a platform; just think about trying to make a billion dollar app like Facebook, Instagram and Tinder did. You need so many users signing up to the platform all the time, and so many users staying on it.
User acquisition is a marketing nightmare, because your success is not only entirely dependent on acquiring real users, but acquiring lots of them. It is a race against time in terms of funding as well as a race against time in terms of getting enough users to join so that you don't end up with people joining who just delete the app immediately when they find that there aren't many users to interact with.
This is precisely what inactive dating apps suffer from, and so dating apps are incentivized to have fake users in the beginning, and to keep people single. Mind blowing.
That is the huge problem with dating apps in their current design, and we haven't even talked about the problem of the visual medium bias whereby people are judged by their photos.
The Future Of Dating Apps With Artificial Intelligence
I predict that the future of dating apps requires a huge transition. This transition would be where dating apps stop being dating apps and start being apps that assist your relationships, from the very beginning to the very end, throughout your life. This would solve the problem of the temporary nature of dating apps; because they are used by singles.
Think about it this way…
The purpose of a dating app is to facilitate making a connection with someone.
If the purpose changes into facilitating the entire lifetime of a relationship, from connecting to meeting and then from meeting to marriage, and managing your marriage, that would be revolutionary. It would be more permanent like social media, and its user lifetime would be more like a human lifetime.
The Next Billion Dollar Dating App
Let's imagine a new dating app that makes this happen in 10 years.
It could sell a product as an add-on for your relationships, you and your partner could have your relationship 'covered' with AI advice. If your partner is upset about something, AI will be able to figure out the signs and notify you, and advise you on how to help your partner and coach you in terms of how you can communicate with your partner better.
If we go even deeper, maybe there could be another product where AI tells you if your partner is cheating on you. After all, Facebook already knows.
Perhaps this means that social media companies have an opportunity to completely destroy the dating app industry over the course of the next 25 years.
List Of Topics Discussed
Is AI A Gimmick?
Is AI Just Another Buzz For Dating Apps?
AI Catfishing
AI Dopamine
AI Girlfriends
AI Copying Your Ex-Girlfriends
Is AI The End Of Marriage?
AI Legislation
Meeting Is What Matters
AI Making It Harder To Date
AI Video Calls
AI Matching On Dating Apps
AI Carries Human Imperfection & Bias
AI Chatbots Gone Wrong
Can AI Find Your Soulmate?
What AI Means For Marriage
AI For Relationships
AI Finding Out Your Partner Is Cheating
AI Porn
What Does AI Mean For PornHub?
Ethical Problems Of AI Dating
Using AI To Meet Through Dating Apps
Female Delusion Calculator
Celibate Online Daters
AI For Deeper Relationships
Personality Type Dating
Intelligence Dating
Predicting The Future
Let's Discuss AI Online Dating
Since coming out with MGAI and this first podcast episode, I have been interviewed by multiple journalists about AI in online dating and received a lot of interest in joining the next few episodes.
I invite you to email me at [email protected] if you would like to discuss any of the following:
Coming onto the podcast
Finding statistics about AI being used for dating (We have a lot of interesting finds, statistics and data)
Writing about AI's crossover with dating for your article or blog
I would love to help you with whatever the case may be.