Social Circle Game With Michael Sartain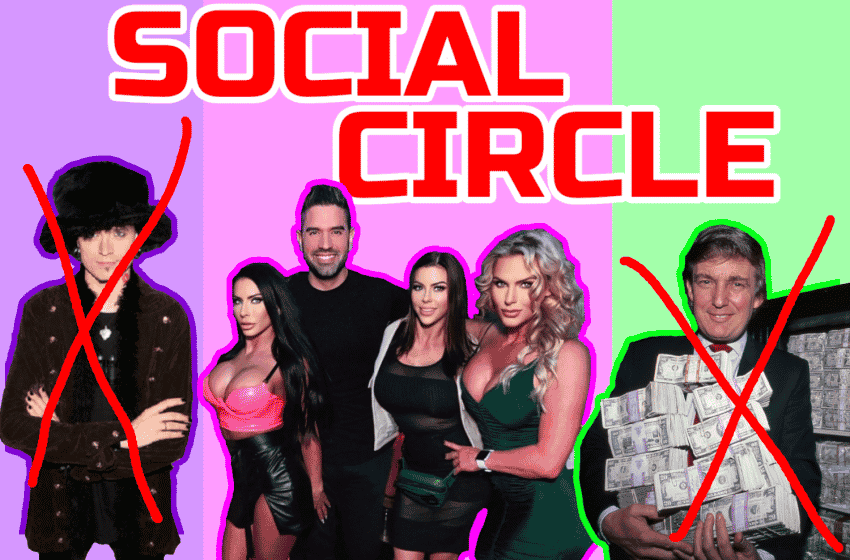 Social circle game is extremely underrated and not talked about enough among people in the dating scene.
When you see lots of figures and coaches in the seduction community, none of them are really surrounded by women. None of them have female friends.
There's only one guy who is seen surrounded by women, and that is Michael Sartain.
Michael Sartain is a figure who has a kind of lifestyle that is often referred to as social circle game by those in the seduction community. But Michael Sartain is not a pickup artist. Far from it.
Some years ago in the prime of Real Social Dynamics (RSD) there were programs such as Social Circle Blueprint by Luke Krogh (RSD Luke), which became very popular. However, there weren't many figures out there who were actually teaching it, let alone living it.
Michael Sartain has become an icon for men pursuing social circles and self-improvement. There are many great points that are extremely useful for those wanting to get into social circle game.
The Rules For Doing Social Circle Game Successfully
Frame Control: Michael Sartain Has 6 Rules To Date More Women & Stay Out Of Trouble
There are 6 rules for frame control, staying out of trouble and dating more women. If you do not follow or understand these rules, you will have a very hard time dating more women and staying away from unnecessary drama.
1: We do not listen to the words.
2: All behavior can be explained through evolutionary psychology.
3: The answer is always abundance.
4: Social media is fake and I am okay with that.
5: We don't worry about other people's money, we don't worry about who other people are sleeping with.
6: Nobody needs to know who you're fucking or how much money you make.
Breaking Rapport & Playing Different Games
There are always debates about which kind of game, within the seduction community, is better. Some people say day game is better, some people say message game is easier, some say night game is more fun. That's the wrong debate entirely.
Then there's the debate on what you should focus on. Some say 'looks' are the only thing that matter; this obviously isn't even true. Some say personality is what you should focus on. And personality is the right answer.
If you play the money game, it's all good until someone with more money comes along. If you play the 'good looks' game, it's all good until someone better looking enters the room.
But the personality game, which we quite often refer to generally just as game, is the game we can win every single time. Play the game that you can win.
Being in the seduction community means that we can improve ourselves and our personalities, and our verbal game. This alone means that we can do things that guys with money or good looking faces can't, like 'getting women to qualify to us game' or breaking rapport.
When there are so few men capable of communicating with a woman genuinely like she's a normal human, it's such an easy game to win. There's very little competition, and nobody taught us this game.
Personality game is a game you can win every time, and you can take it with you everywhere you go.
Social Circle Game Requires Discretion
Michael Sartain shares a crazy story of a nudist confrontation in Jamaica that had everyone either crying with laughter, or completely shocked.
Typical pickup artists, and men in general, like to brag about who they slept with. So to put it into perspective, imagine that you just had sex with Lady Gaga, or Rihanna, or someone really famous that you would consider having sex with…
Some people would boast about it to their friends. This would then ruin the relationship because you were not discreet.
Nobody needs to know who you're sleeping with. If you're telling other people about it, you're just looking for validation. Social circle game is not about validation.
Social Circle Game Compared To Day Game
Why Michael Sartain's Social Circle Game Beats Day Game Every Time
Don't fall into the trap of believing that day game is a terrible thing. There's no problem with doing day game in itself, but there is a problem in doing day game and nothing else. Even if you're a hardcore day gamer, you need to see these discussions with an open mind.
Michael Sartain says that you will never, in a million years, pull one of the hottest women in the world from doing day game. The hottest women are at the events, not on random streets like Oxford Street in London or Yonge Street in Toronto.
The Superpower Of Status (How Women Respond To It)
By getting access to high status events and exclusive events, such as the Playboy Mansion, the fact that you're there in the first place is enough to qualify you in her eyes immediately. Status is like a superpower, but it's one that is actually real.
Stop Doing Day Game At The Mall Full Of Creepy Dudes
Day gamers have gained a lot of notoreity and criticism over the years, notably with the Toronto Eaton Centre tweeting about 'pickup artists' and effectively banning day gamers. There are good ways to do day game and bad ways to do day game, and unfortunately there are those who ruin it.
In the same light, there are good ways to use social circles and bad ways to use social circles. It's not one against the other. Both forms are valid, and both can be used well or be used badly as a tool to meet people.
Social Circle Game With Instagram
Instagram Strategies With Michael Sartain
If you're not using Instagram, you're missing out big time. Instagram was made popular by women in bikinis, and it will probably stay that way.
Instagram is a tool that enables you to display your life in a very positive way. You can use Instagram stories to stay in sight of thousands of women, Instagram reels to boost your Instagram presence, or modeling and photoshoots to turn your Instagram profile into one that both women and men want to see.
Starting Social Circle Game In A New City From Scratch
If you're worried about social circle game taking a long time to kick off, you can actually do it within a few weeks. You can do it in a new city completely from scratch and get great results in a short time.
How Social Circle Game Works With Dates
Smarter Dates: You're Never Creepy When You're Offering Value
Normally people follow the way of society by going on individual dates with a single person and then eating at a restaurant while interviewing each other about their lives, or something like that.
Michael Sartain gave a different perspective which is so simple, we have to be dummies not to try it.
It is the view that having a social circle with female friends is far better than going on a normal date, because people are more honest and open about things, and the premise is very much a social one where people have their guard down more. There is a huge difference.
If we, as Michael Sartain puts it, 'create a ball that radiates fun', it will be far more flexible and fun than a normal date. They can both get you to the same place, but there's more fun and efficiency in having a social circle.
Taking Multiple Girls Home
Very Practical Advice For Kissing & Taking Multiple Girls Home
There's some very practical advice that can easily apply to all forms of game, even social circle game. With Michael Sartain, I decided to discuss the physical escalation aspect of it, such as kissing and getting women come home with you.
Female Sexuality
Women Have 237 Reasons To Want You: Stop Focusing On 'Looks'
Michael Sartain once interviewed David Buss, PhD about sexual attraction in evolutionary psychology on the Michael Sartain Podcast. It was awesome.
According to the book Why Women Have Sex, women have 237 to be attracted to a man, and men have just 1 reason to be sexually attracted to a woman. It is fascinating, and we discussed what this means for any misled men in the seduction community. In particular, there are more and more guys who believe that 'looks' are the only way to succeed with women, but it's absolutely not true.
Discussing Female Sexuality & Bisexual Girlfriends With Michael Sartain & Lyddie Ward
Female sexuality is quite obviously different from male sexuality, and we dived into this topic with some female perspective. As it turns out, bisexual girlfriends are hugely misunderstood. This is not worth missing out on.