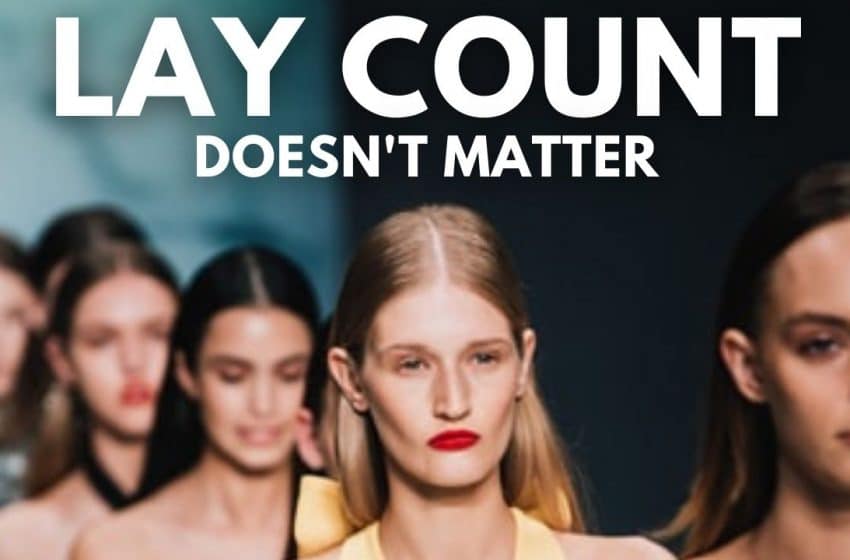 Discover why your lay count is a horrible metric for measuring your (or anyone's) ability with women – and an even worse metric for measuring quality of life.
Hey, it's Joe.
I want you to choose from two options for tonight's dinner. 
A glorious sirloin steak with vegetables

100 Big Macs
The answer is obvious, right?
Option A is delicious and will leave you incredibly satisfied. Option B is low-quality, takes tons of effort to eat and you simply don't need that much. 
But do you think there's someone out there who would choose the 100 Big Macs? 
Perhaps a guy who judged the quality of their life solely on how much meat they could eat??   
In case you couldn't tell, this is a metaphor to illustrate the absurdity of counting your lays.
Your 'lay count' is a horrible metric for measuring your ability with women – and even worse for your quality of life.
But our community is infected with guys who do this. 
There are guys who think they'd be happier if they slept with 100 women next year. There are dating coaches who do nothing but boast about their 1,000+ lay count. 
It's so ridiculous. 
If you want to increase your lay count, head to Brazil or Colombia and buy a $30 hooker every night. See how happy it makes you…   
If you want to increase your quality of life, work on and measure things that will actually make your life better. 
How many nights this year did you go out and have amazing fun? How comfortable are you in your own skin at social gatherings? How proud are you of your achievements in life? If you died tomorrow, how many people would turn up to your funeral and say you were a great guy? 
Want to measure your progress with women? Ok, sure. 
If you were horny tonight, how easy would you find it to have sex with an amazing woman? How much great sex did you have this year? How many true intimate connections did you make with quality women? Do you have a connection like that right now?  
I hope you agree these are better life metrics than how many wet holes you've put your penis in. 
So, stop counting your lays. Or at least stop attaching your self-worth to your lay count.
My new 'Big Dick Energy' features 12 powerful exercises to help you unleash your natural masculinity. These will help you get laid more often, if that's what you want.
But they'll also improve the quality of your life in so many more ways, including:  
being comfortable in your skin; 

being proud of who you are; 

attracting amazing friendships;

taking exciting risks;  

taking opportunities;

protecting yourself and your loved ones;

and more… 
Speak soon,
Joe