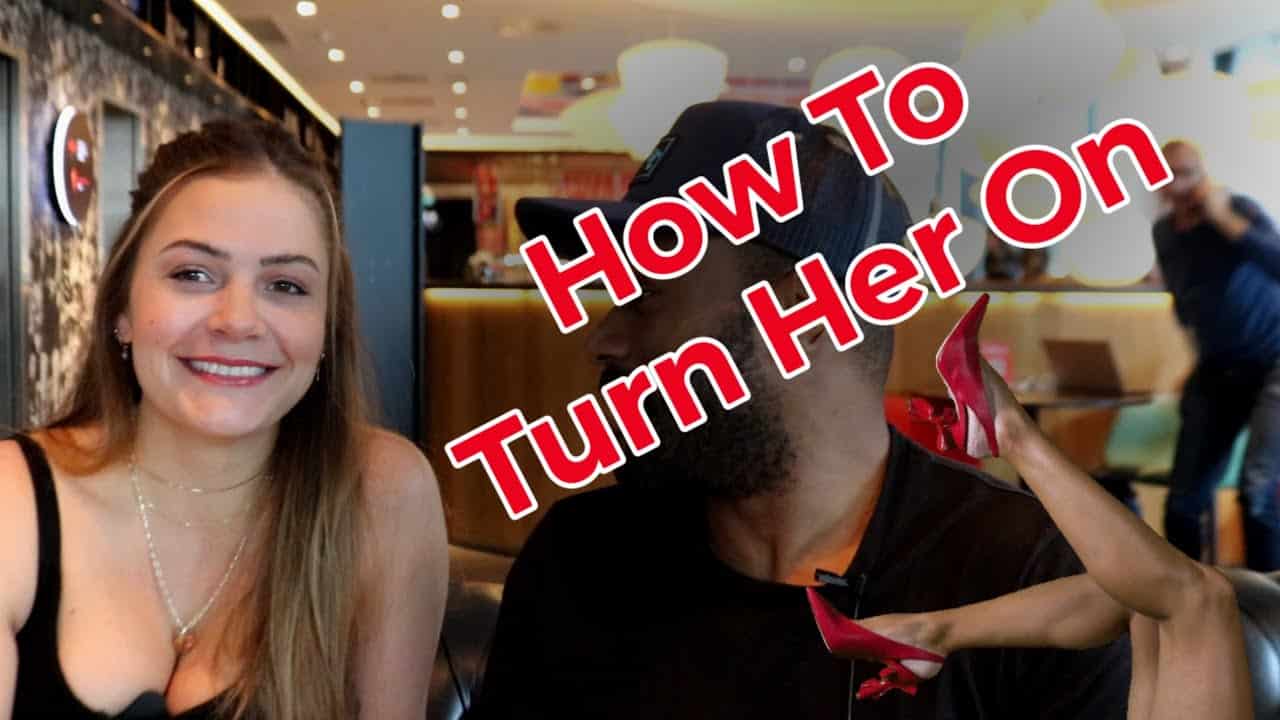 Discover how to sexually escalate with a woman using this free video guide
Hey, it's Ciaran.
Throughout this guide please remember: the secret to 'showing intent' is to start small and slowly become more daring.
If she allows it, move on to something more daring.

If she rejects it, laugh it off, keep talking and try something different later.
Also, if you're new to our website, make sure to connect with wingmen in your local city using our network of Facebook and Telegram groups. We have groups 300+ major cities across the world
15 ideas for sexually escalating with a woman
Below are bunch of escalation moves, which start tame and slowly become more bold.
Open direct – "I thought you look really nice/great/interesting/fashionable so I wanted to say hi". (If you must, open indirect as a warmup, but you better throw in the direct opener with 'by the way' in pretty soon afterwards.)

Fiddle with her jewellery while showing interest in it – Any sort of touching is good. Here's an innocent one to start with.

Playful taps on the arm or leg when she says something cool or funny – Sit next to her on a date, so you can do this more easily.

Any excuse to touch her hand. Palm-reading, arm wrestling, looking at her rings or tattoos.

Leading her somewhere by the hand

Over-the-top jokes about getting married or a super-romantic date

Grabbing her hands and dancing salsa (or the classic PUA spin hand-shake)

Readjusting or picking something out of her hair

Asking if she's sporty and playfully feeling her arms or abs

Pulling her in close and throwing her arms over your shoulders

Hugs

Nibbling on her ear or neck

Rubbing her hands on your chest or ass

Grinding on the dancefloor

Kissing etc…
For a series of real-life stories explaining how the Game Global coaches pull on the first date, see the other guides in our sexual escalation chapter
Verbal escalation
Don't underestimate the power of eye contact and voice tonality. You can want to stare and speak in a manner that relays: "I'm going to fuck you". Imagine how you'd stare and your girlfriend when things are getting hot, and you tell her to blow you. That's the vibe you want throughout the conversation.  
Speak slowly and seductively, as if you know she's up to something naughty and you're trying to figure her out. There will always be a time when the conversation turns fun and friendly, but you can always go back to this vibe.
If you get this down, you'll have giggling and getting turned on, no matter what you're actually saying.
Still, here are some ideas for conversation topics that can help you to verbally escalate.
"Have you ever kissed a girl?"
"If you could hook up with a celebrity, who would it be?"
Roleplay/future projecting some crazy adventure you'll go on in the future.
Make assumptions about other couples. Do you think they're on a first date. Do you think she wants to fuck him? Maybe they've been together a long time, but the sex is bad.
"What's the most spontaneous/adventurous thing you've done?" (always about spontaneity like it's an AWESOME trait).
"I can tell you're a bad girl sometimes, if you want to be…"
Of course, there's a time and a place for all of these conversations. SOME OF THESE IDEAS YOU WON'T VIBE WITH. Sometimes, it'll be seem completely inappropriate if there's no sexual vibe to begin with.
But the idea is to being up sexual topics like it's not a big deal, because sex isn't a big deal to attractive men. When she sees you're one of those guys who understands that, she's going to feel less judged about having sex with you quickly.
Still, the flirtatious vibe has to be there.
Always remember the way you talk to her is more important than what you say.
Here's the important part of the post…
As a man, it's your job to lead.
Even if a woman desperately wants to sleep you, she will nearly always wait for you to escalate the interaction towards sex.
It's not in a woman's nature to do this for you. Masculine energy leads, feminine energy follows.
If you're new to learning game, you may logically understand this, but you still won't want to do it because:
you'll be so pleased that the hottie is enjoying the polite chit-chat that you won't want to ruin that;

you have few references of escalating going well that your default is too assume that it'll ruin the set;

your brain floods with bullshit excuses why it's inappropriate to escalate.
For me, it took maybe hundreds to realise that chatting politely and waiting for a woman to escalate on me DOESN'T WORK. I beg you don't take as long as me to figure this out.
Give escalation a go…
Yes, it's scary escalating physically or verbally on a woman, but you have to do it!
We'd recommend setting yourself challenges based on the bullet points listed above. Perhaps you'll aim to dance salsa with five girls, get turned down for five kisses etc.
A night like this will change your game if you're a newbie who struggles with this.
Please remember: GOING TOO FAST WON'T KILL THE SET (unless she has a boyfriend). You can laugh if off and carry on talking. However, going too slow will kill the set, waste your time and make you feel like a pussy.
How To Escalate On Dates
This guide was based on meeting girls in bars and nightclubs, but it can also apply to daytime environments and DEFINITELY ON DATES.
If you're a Game Academy VIP member, you can Check out our video guide on pulling on the first date for more information.
Need help in some area of your dating life? Not as confident as you'd like to be?
I'm currently offering FREE 30-minute Skype consultations with readers of this blog. In these calls, we can discuss your dating problems and create a roadmap to help transform you into the attractive man with the abundant dating life you always wanted.
To book a free call with me, click here to choose the best date and time for me to call you >>
---